Flagstone is a natural patio surface material quarried and cut into different thickness. The thickness determines whether the patio surface needs to be prepared first before being installed. But when installed expertly, a flagstone patio can be a marvelous piece of design element for your outdoors, giving it an ageless appeal.
Flagstone Pathway
This flagstone installation creates an interesting contrast and rustic look for pathway. The individual pieces are mixed and put together like a puzzle with no pattern in hand, resulting in a beautiful path that's waiting to be explored.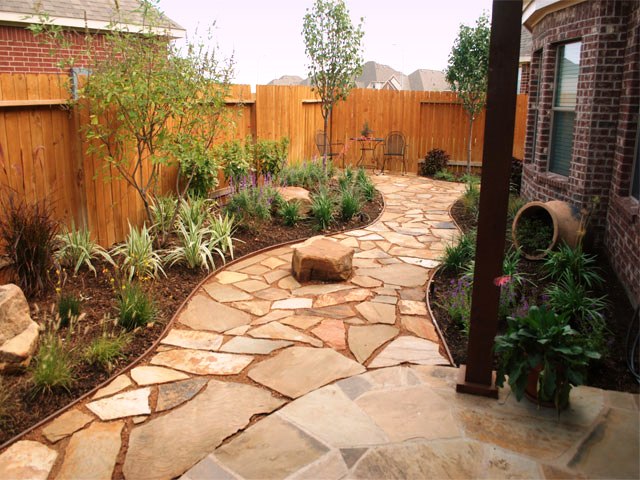 This is a different take on the flagstone project wherein the pieces were directly installed on the surface. Since there is minimal ground preparation, these pieces were thicker. Notice the spaces in between the pieces where grass is expected to sprout to act as both ground cover and accent.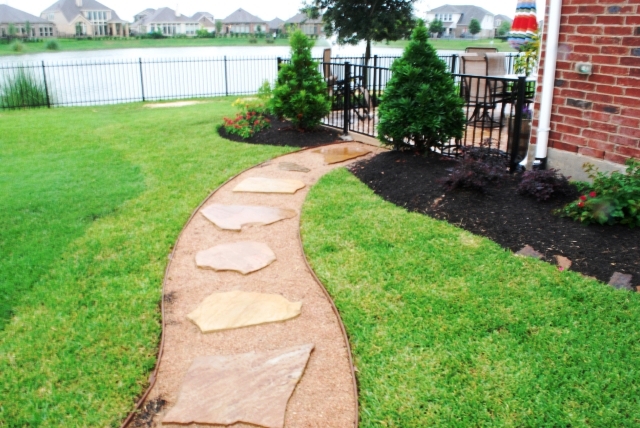 Made up of larger slabs of flagstone, this set was chosen according to their light palette, creating a neutral tone in the midst of a verdant lawn.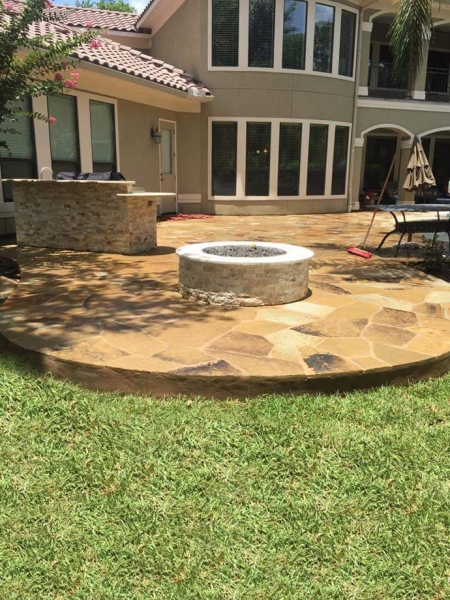 Flagstone is a sturdy patio surface material, which is why it was particularly chosen for this deck with a fire pit in its midst. Due to its hardy nature, this flagstone deck will last for many decades and maintain its smooth and elegant look for years to come.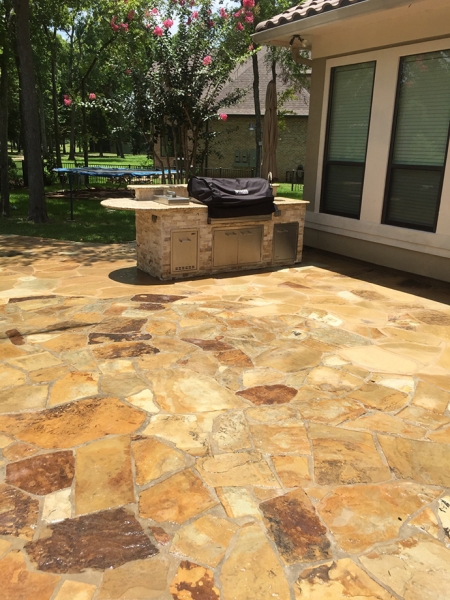 With the patio prepared, this flagstone patio is the epitome of a rustic and full sun outdoor space that can stand up to the heat, spills and stains an outdoor kitchen creates. The spaces in between the flagstone pieces were also treated with paving joint fillers to make the installation hold together and last a lifetime.
Like what you see? If you are keen to have an outdoor space expertly installed with flagstone, call us today for a free no-obligation consultation!