Flagstone patios lend an elegant and lively look to anyone's patio. Made of natural, roughly cut stone slabs, see remodeled Sugar Land flagstone patios we've installed over the years. Find more of what this natural stone patio material has to offer when installed the right way for Sugar Land patios below!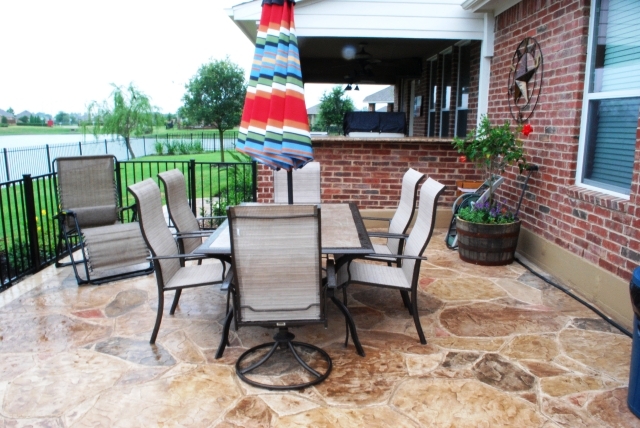 Giving a glossy finish to this flagstone patio, it gives a smooth patio surface which works very well in contrast to its brick walls. Properly installed and applied with the right finish, a flagstone patio will remain shiny and presentable for a long time. We're sure this patio will host many afternoon chats for decades.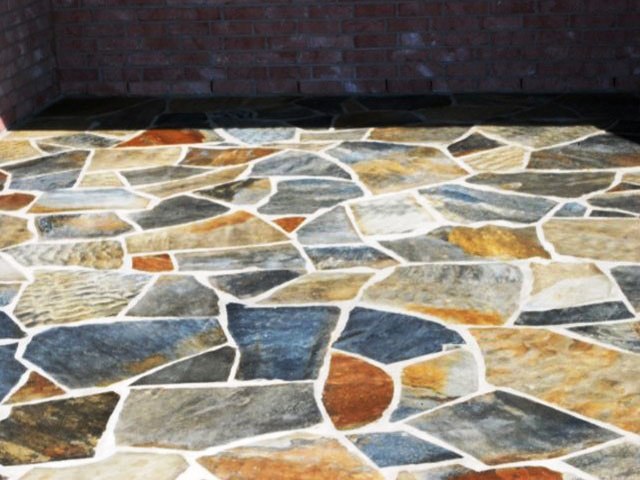 A spectacle in itself, the right flagstone material can create a lively abstract mosaic which livens up an otherwise empty patio space. If you have a base, you can opt for a thinner flagstone. However, if you're directly laying flagstone onto the ground, a thicker cut is preferred for longevity and durability.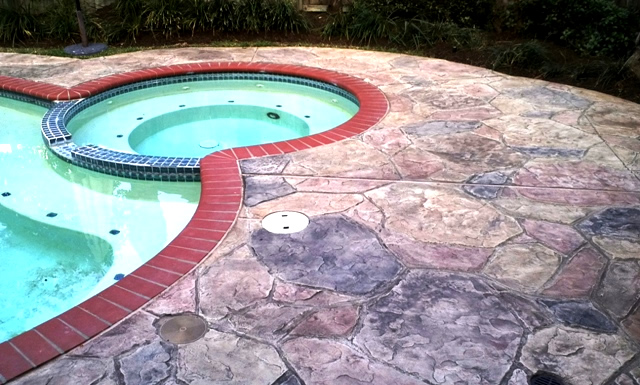 Flagstone with its variety of colors is also a favorite patio material for pool surrounds. With its red, blue, and brown hues, a flagstone provides a great contrast against your pool and encourage vivacity and fun! Since it surrounds a pool, allowance for proper drainage and a textured surface must also be included to avoid accidents.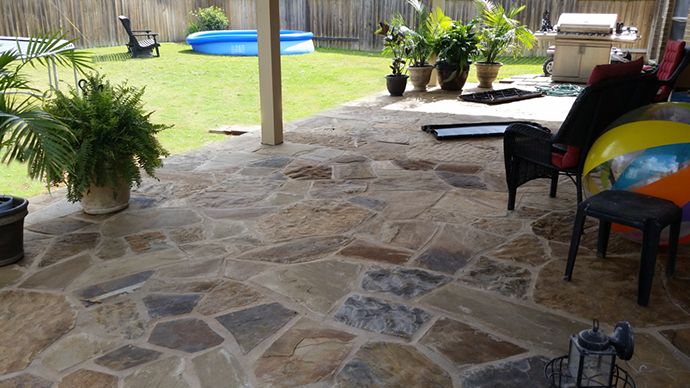 This flagstone installation projects a rustic and casual look to the family outdoor room. Irregular stone cuts were installed to achieve this textured, rustic effect. Using a wet installation method, the flagstones were installed on top of a concrete base for a more even, durable surface.
For more flagstone patio samples, browse our flagstone patio gallery. Feel free to also browse our other patio surface gallery for inspiration. If you're still unsure whether flagstone is the right material for your outdoors, call us today for a free, no-obligation consultation!