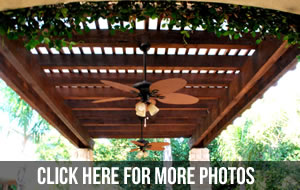 Pergolas add a classic architectural style to any home. Although at times referred to as an arbor or open gazebo, the pergola is distinctly different with its latticed roof supported by sturdy crossbeams. A pergola has a versatility that makes it one of the most requested outdoor structures to be installed. It can stand alone as a landscape element or serve as a cool shady nook within a garden. Pergolas can serve as portals to a different section of your lawn or backyard or delineate other outdoor living spaces such as an outdoor kitchen or patio.
A pergola effectively extends the floor space of any home whether your property is in a busy city or located in the country side. It's an additional outdoor structure adds to property value with its form and function.
Let Patio Creations assist you in creating your own personalized Sugar Land pergola that will make cooking outside or simply hanging out with family or friends a more enjoyable experience. Besides creating pergola designs Sugar Land homeowners appreciate, Creative Patios also builds and installs patio covers as well as builds decks, screened porches, and many other kinds of outdoor living spaces.
Call us today for more information or schedule a free in-home estimate and no-obligation design consultation.