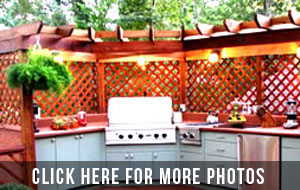 Outdoor kitchens and dining areas are popular entertainment spots outside the home these days. They complement the natural landscape and at the same time serve as additional home space. They come in fashionable modern designs and a host of kitchen accessories like grills, ovens, cupboards and even a bar.
Creative Patios can provide a Sugar Land outdoor kitchen design complete with custom or semi-custom grill. It can also be a prefabricated built in
The grill can be totally custom, semi-custom, or a prefabricated built-in module.  We can also add the increasingly popular wood fired outdoor pizza oven.
Other features that may be added to an outdoor kitchen design Sugar Land homeowners will appreciate include refrigerators, sinks, racks, countertops, cabinets, and trash bins. Whatever your specifications, Creative Patios will be sure to meet them.
Visit our office today or call us now to schedule a no-obligation consultation.