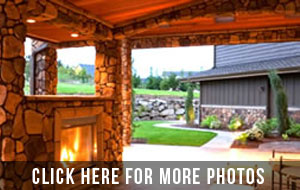 The warmth and cozy ambiance generated by fireplaces and fire pits are sure crowd drawers. That's why Patio Creations designs and builds them to add an inviting feature to your outdoor living spaces.
An outdoor fireplace is always an impressive statement piece in any landscape.  They can either be incorporated within an outdoor kitchen or provide warmth to an outdoor dining area. It can also be constructed as a freestanding structure beside the patio or built into a porch wall.
A popular outdoor feature these days are gas fire pits. That's because they're low cost, low profile, and take up only a small area of outdoor space; and still being able to provide a cozy spot to gather around with friends to unwind after a long day. Patio Creations can custom build fire pits into your patio area or you can purchase pre-fabricated kits for gas or propane. Other fire pits are also ideal for rotisserie and skewer cooking.